Wyoming Backcountry and Yellowstone Trips
Jay Allen has spent a decade exploring the hidden gems of Wyoming's back country including Yellowstone Park's famous fishing holes during the summer months.
Jay's fly fishing adventures offer anglers full day fishing on a "walk and wade" trip.
The horseback "walk and wade" adds a wrinkle and a truly western feel to your day of fishing. You'll be able to explore the wilderness area of the Buffalo Fork of the Snake River while pursuing both native cutthroat and brook trout.
Finally, the three- to six-night overnight trips in the Teton Wilderness will take you to some of the most secluded fishing spots where you'll disconnect from your normal day-to-day life and reconnect with Mother Nature.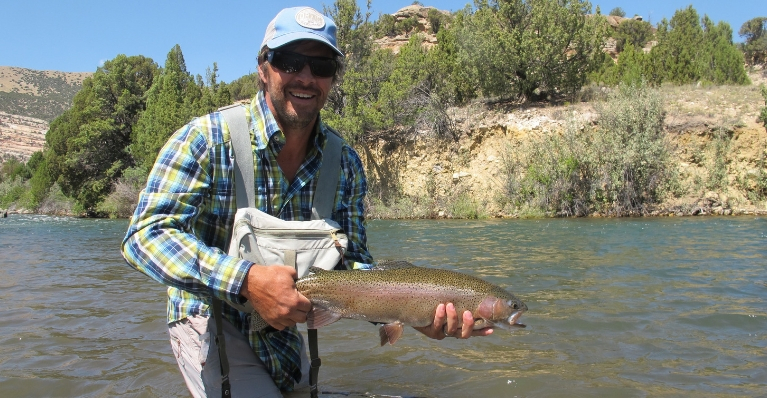 Yellowstone Park
Fish the Firehole River for early Spring rainbows and brown trout and the Lewis River for Fall brown trout.
The Firehole is quite possibly the most unique trout river in the world.  It flows through three of the largest and most active geyser basins in the world, including iconic thermal features such as Old Faithful and Grand Prismatic spring.  Wildlife is plentiful in the area, with frequent sightings of elk, bison and bear. The Firehole would be a worthwhile destination without even wetting a line.
Located in the southern portion of Yellowstone Park, the Lewis River is part of the Snake River drainage that flows south towards Grand Teton National Park. Since most fishing in Yellowstone Park is focused on the Madison and Yellowstone drainages in the western and northern sections of the park, respectively, these southern fisheries are often overlooked.
Pricing:
$625.00/person/day; add a third angler for $200.
Buffalo Fork back country
The Buffalo Fork of the Snake River is one of Wyoming's finest locations for fishing, offering an array of fish in clear waters that drain the Teton Wilderness. Over 80% of the river is in a wilderness or primitive setting, and has a high degree of natural character. Cutthroat trout swim from the main fork of the Snake River to the Buffalo Fork.
4 day/3 night trips with a mixture of canyons, pocket water, and meadow fishing for Westslope and Snake River fine spot cutthroat trout.
Pricing:
$625/person/day with a four angler minimum. All meals and camping gear included.
Yellowstone River back country
The Yellowstone River is the longest free-flowing river in the lower 48 states and one of North America's most productive wild trout fisheries. This large river drains much of Yellowstone National Park and its surrounding wilderness areas. The Yellowstone River has a variety of trout species, beautiful scenery and a range of different sections to choose from that each have their own personalities.
7 day/6 night 30-mile horseback camping trip for native cutthroat.
Pricing:
$625/person/day with a four angler minimum for a seven-day booking.
All meals and camping gear included.
Wind River Reservation
The upper Wind River drainage located in the Wind River Reservation is an underfished and highly productive section of this famous river. Limited access to this water means very little pressure!  The Wind River Canyon has brown, rainbow and cutthroat trout with many going 18 inches and better.
Fishing options include Wind River drift boat fishing for brown trout and Lower and Upper Bull Lake Creeks for walk-and-wade day trips for brown and cutthroat trout.
Pricing:
$625.00/person/day and 2 anglers; add a third angler for $200.